Ad blocker interference detected!
Wikia is a free-to-use site that makes money from advertising. We have a modified experience for viewers using ad blockers

Wikia is not accessible if you've made further modifications. Remove the custom ad blocker rule(s) and the page will load as expected.
The Shuuen no Shiori Project (終焉ノ栞プロジェクト Shuuen no Shiori Purojekuto), is a Vocaloid song series based on various Japanese children's games and urban legends, and was created by 150-P (One Half-P).

There have been 75 articles since January 13, 2013.
Everyone is free to help out, but please make sure to only add confirmed information!



| | |
| --- | --- |
| | This wiki contains heavy spoilers to the series. Read our articles at your own risk! |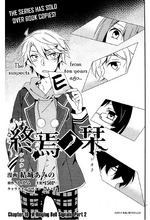 A Ringing Bell Signals (Part 2)
Coming soon...
Current Poll
Who is your favorite character?
Previous Poll
Are you excited to see more of the project?
| Rank | Poll | Votes | Percentage |
| --- | --- | --- | --- |
| 1st | Yes | 269 | 97.59% |
| 2nd | I'm not sure yet | 6 | 2.41% |
| 3rd | No | 0 | 0% |